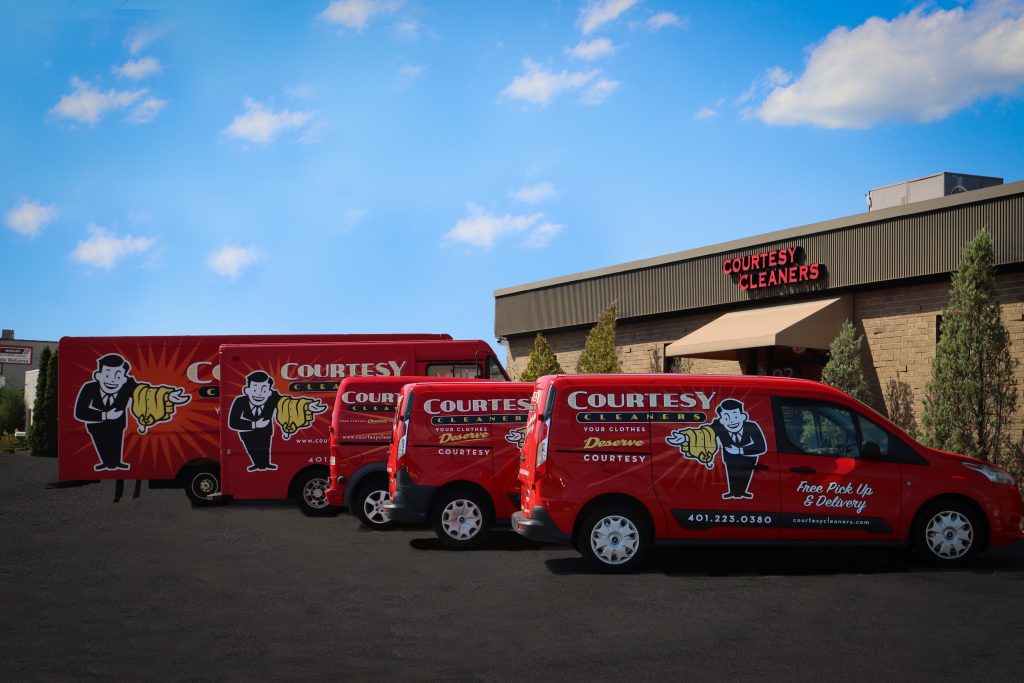 Courtesy Cleaners has a dedicated team working exclusively to pick up and deliver to your home or office. Our trained, uniformed professionals retrieve and return your dry cleaning and laundry seamlessly and conveniently. Locations may vary. Contact us to see if your home is available for home delivery.
To get started, sign up to request a pickup, leave your bag out, and then receive your order! Download our app to track your order or request a route pickup!
Fine Garment Care / Dry Cleaning
When you choose Courtesy Cleaners , your garments are cared for by our highly skilled and trained staff members. Each item is carefully inspected for the best methods of cleaning and stain removal. All buttons, hems, embellishments, and trims are inspected, reinforced or repaired, even removed before cleaning if necessary. Your garments are then hand pressed by our most skilled garment finishers, who pay close attention to each and every detail. Once finished, your items are then inspected once again, to ensure they look perfect before they are beautifully packaged for you.
You can count on our experienced staff to determine the best cleaning method for your dress shirt. Depending on the fabric and care label of your shirts, we will either dry clean or launder your shirt.
Laundered shirts are treated for stains and put into our state of the art washers. Then they are put onto our hi- tech pressing equipment, which also dries 
the shirts. After the shirts cleaned and pressed, they go through a detailed quality inspection, including inspecting for any broken or missing buttons, which are then replaced at no additional cost. You can depend  on Courtesy Cleaners for a dress shirt that you can consistently wear with pride.
Lets face it, laundry is no fun. Why not leave the drudgery of doing laundry to us while you move on to more productive and fulfilling activities.
We carefully sort and inspect your garments when they come in and follow all care instructions. We use only the best and safest cleaning agents available today and take great pride in ensuring your laundry is well cared for . Our expert technicians make sure to make spots and stains a thing of the past.
Once your garments are clean we quickly whisk them into our dryers and get them perfectly fluffed and ready to be expertly folded. We know once you try our Courtesy Cleaners white glove laundry service you will never go back to doing your own laundry. Call us today to get started.
We clean your linens, bedding, furniture covers, area rugs, and other households using the same precise care with which we handle your clothes. Whether they're stained, everyday items or treasured family heirlooms, our experienced staff is hard at work restoring all your items to their original splendor.
It takes special knowledge and unique skills to clean and care for your finest leather garments – restoring your jackets, handbags and other leather items to their soft and supple texture requires not only cleaning but conditioning and sealing. Your suede and leather items will get the royal treatment at Courtesy Cleaners.
Tailoring and Alteration Services
In addition to our complimentary services such as minor mending and hem repairs, Courtesy can help maintain your wardrobe by fixing a simple tear, replacing a zipper, or performing extensive reconstruction.
Wedding Gown Preservation
We treat each special gown individually, expertly cleaning the deepest stains. Whether you're preparing your gown for an upcoming wedding or preserving it as an heirloom in our museum-quality preservation box with acid-free materials, your gown will last for a lifetime of memories.
We can help keep your UGGs longer by using a new and exclusive cleaning procedure to restore them to their original condition, inside and out.
Our special restoration department is outfitted with an ozone chamber and equipped with specific tools, detergents, odor neutralizers, and mold remediators to restore your garments, window treatments, and other household items that have been damaged by smoke, water or mold.